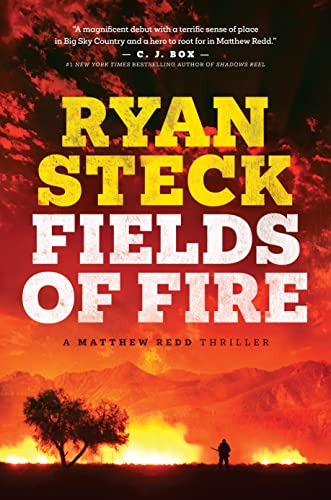 The best conspiracy theories contain an element of truth, and the best novels containing conspiracies do as well. Such is the case with Ryan Steck's Fields of Fire, the debut novel from the founder of The Real Book Spy, one of the Web's go-to resources for thriller lovers.
Matthew Redd is doing not only what he loves, but something he is good at as well: being a Marine Raider, part of the tip of the spear that is America's special operations forces. With nods to the characters of Vince Flynn, Lee Child, Brad Taylor, and others, Redd is a hard-charging Marine with a heart of gold, both thanks to his adoptive father, J.B. But while gearing up for the takedown mission of a scientist-terrorist, Redd is deceived by the person he helps out on the side of the road, and the result is his being disgracefully drummed out of his beloved Corps. To make matters worse, he emerges from the stockade to find out J.B. has died.
Redd sets off to his home in Montana, to the small town and open spaces he hasn't been around in for close to a decade. He finds himself at odds with his neighbor, the son of a BigTech billionaire, learns his high school sweetheart has returned, and can't square the messages he's getting about J.B.'s death with the man himself. Not getting any help from local law enforcement, Redd sets out to get answers using the skills taught to him by J.B. and the Marine Corps.
Ryan Steck enters an already crowded thriller field, but brings something fresh and new in the story of Matty Redd. As not only a lover of the thriller genre, but a student, Steck has learned his lessons well and crafted a solid debut. Incorporating bits of real life, such as the Georgia Guidestones and Bill Gates buying up farmland, albeit in this case his fictitious tech billionaire being the buyer, Steck weaves a conspiracy of global proportions into the rough-and-tumble locale of Big Sky life in Montana.
Steck signed a two-book deal with his publisher, and the next novel is easily but convincingly set up at the conclusion of this one. As an adoptive father myself, I could feel J.B.'s pain and pride as Redd recounted lessons his dad had taught him. I also enjoyed the carefully-laid plot twist. If you are a lover of the thriller genre, this is a great read to add to your library.
4/5 phins, a solid debut
Amazon: Kindle, Hardcover
Barnes & Noble: Hardcover
Indiebound: Hardcover